Delegates who attended AZTech's training programme "The Essentials of Contracting" last week, explored the breadth of key topics in the field of making, changing and ending contracts – subjects of importance to the petroleum industry.
The training course, which started on Sunday at the Hilton Hotel, Al Habtoor City in Dubai, was attended by oil industry participants from Kuwait and Saudi Arabia.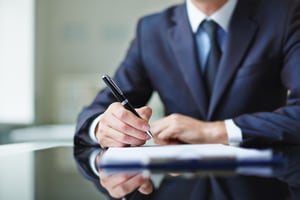 "This programme has a broad appeal that can be tailored to suit the knowledge and skills of delegates from many diverse backgrounds", comments Bill Blakemore, the AZTech senior consultant who conducted the training.  "I deliver a portfolio of contract management courses, and what I like about this one, is that it is suitable for individuals who do not necessarily have a legal background".
"This week although some of the delegates have been working with vendors and contractors for a long time, others are new to the topic. I must address the legal fundamentals for the 'newbies' and for the more experienced delegates we can also go that bit deeper into more complex legal issues".
"I enjoy getting delegates to look at what can be controversial topics, such as liquidated damages and penalties", said Bill, who was formerly a barrister practicing at the London Bar. "Some delegates will conclude that penalties are an acceptable way to punish a contractor who has failed to perform – but in many jurisdictions such clauses will be completely unenforceable, even though the parties signed up to them in the contract at the start of the project".
"I really like the way my delegates are getting stuck into the many practical exercises we are doing on the course" Bill remarked. "It demonstrates to me the value of a programme that encourages active participation.  Through role play in a negotiation exercise, for example, these delegates will remember what we did this week. It also means they will have a better chance of being able to apply what they learn when they're back in the office."
Among the topics covered last week were:
The reasons for contracting out business functions
Recognising the role that contracts can play in managing risk, through transferring business risks – usually for a fee – from contract owner to the contractor
How to use model contract templates in your contract planning
Negotiating away the other side's unfair contract terms
Managing variations to the scope of work
The role of bonds and guarantees in providing protection to the contract owner
Methods of resolving disputes such as mediation or arbitration – as well as using construction contract adjudicators and dispute boards.
If you want to know more about this course and its future sessions,
please visit – http://aztechtraining.com/course/the-essentials-of-contracting